Getting words on paper is easy.
It's everything else that slows you down as an Indie Author. Editing and formatting are incredible time eaters; did I mention the self-doubt that every writer faces prior to publishing?  Nevertheless, she persisted. I knew DICKOTOMY would be the first book in the ever evolving DICKLESS series. Please read up on DICKOTOMY below, and then scroll down further to find out what I'm working on these days.
PUBLISHED NON-FICTION BOOKS: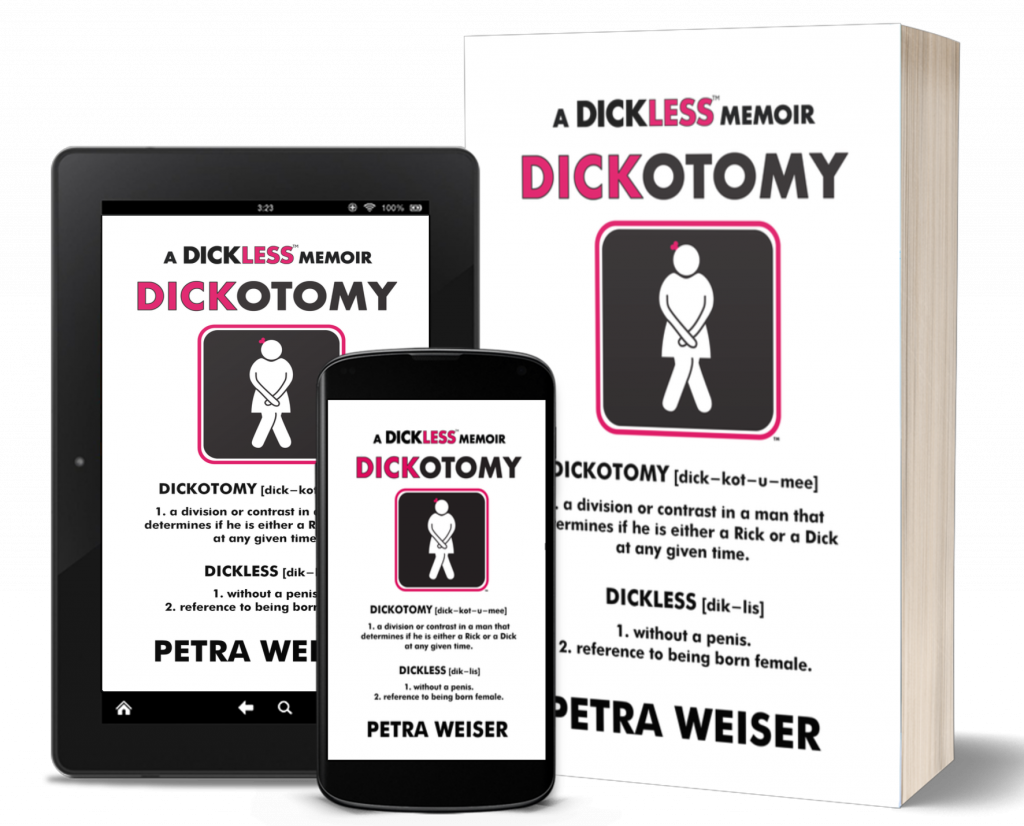 What defines you?
Have you ever given this any thought?
In this memoir, I wondered if my strict childhood, my naivety as an immigrant, my insecurities in standing up for myself and others, or my struggles to find my voice in corporate America were my defining moments. But then it struck me:
Who defines you? was a much better question to ask. In my case, was it Daddy Dearest, who made all the rules, or The Alcoholic, who controlled my every move, or The Narcissistic Bully, who only cared about himself, or The Distrusting CEO, who heard what I had to say, but who didn't listen? And what about The Guardian, who helped rebuild my trust in men, The Boys, who taught me about unconditional love, or The Soulmate, who simply let me be me?
DICKOTOMY acknowledges the importance of the Ricks and Dicks in every woman's life.
Ultimately, it is up to us to decide who we truly are.
I'm so thankful for the BEST RICKs any woman could ask for. Pictured with me, from bottom left to bottom right, are four of my favorites:
The Office Husband, One of The Boys, The Guardian, and The Soulmate.
To purchase DICKOTOMY, click below:
Or head on over to the DICKLESS.SHOP where you can purchase the book signed and personalized by me!
DON'T FORGET TO LEAVE A REVIEW.

YOUR SUPPORT WILL FEED AN AUTHOR!!!!!
Here's what's coming next in the DICKLESS series:
Release early 2023!
Sign up for updates and news via follow.it.
impact - a woman's guide
to impactful interactions!
We all have interactions with difficult people in our lives. No matter where we go or what we do, there is always at least one micro-manager, bully, or narcissist. More than likely, we will be impacted by their oppression rather than triumphing over their tactics. This keeps us in check, and as a result, we attempt to reduce, even avoid encounters of the threatening kind. Why? Because we do not know how to approach or deal with them in a way that will benefit us. Avoidance will get us nowhere. We need interactions and other influencers to get to where we want to be in life.
How? Lay the foundation from within. Draw from learnings, observations, and values so that you can anticipate—even steer—the outcome of your interactions in an empowered manner. This process is called L.O.V.E. (Learn, Observe, Value & Empower).
For this book to be effective, you must commit to honesty as each chapter encourages you to dive deeper into what makes you and them tick. Examples, recommendations, and a few exercises will guide you toward success without having to read scholarly textbooks on psychology. This guide was written by an average woman, who, turns out, isn't average at all. Neither are you.
IMPACT your world and get ready to leave your mark – and your adversary behind.
This next title is on a very cold back burner. I'm not ready to dive into women yet because I haven't done enough research to substantiate any findings. LOL. This will take years.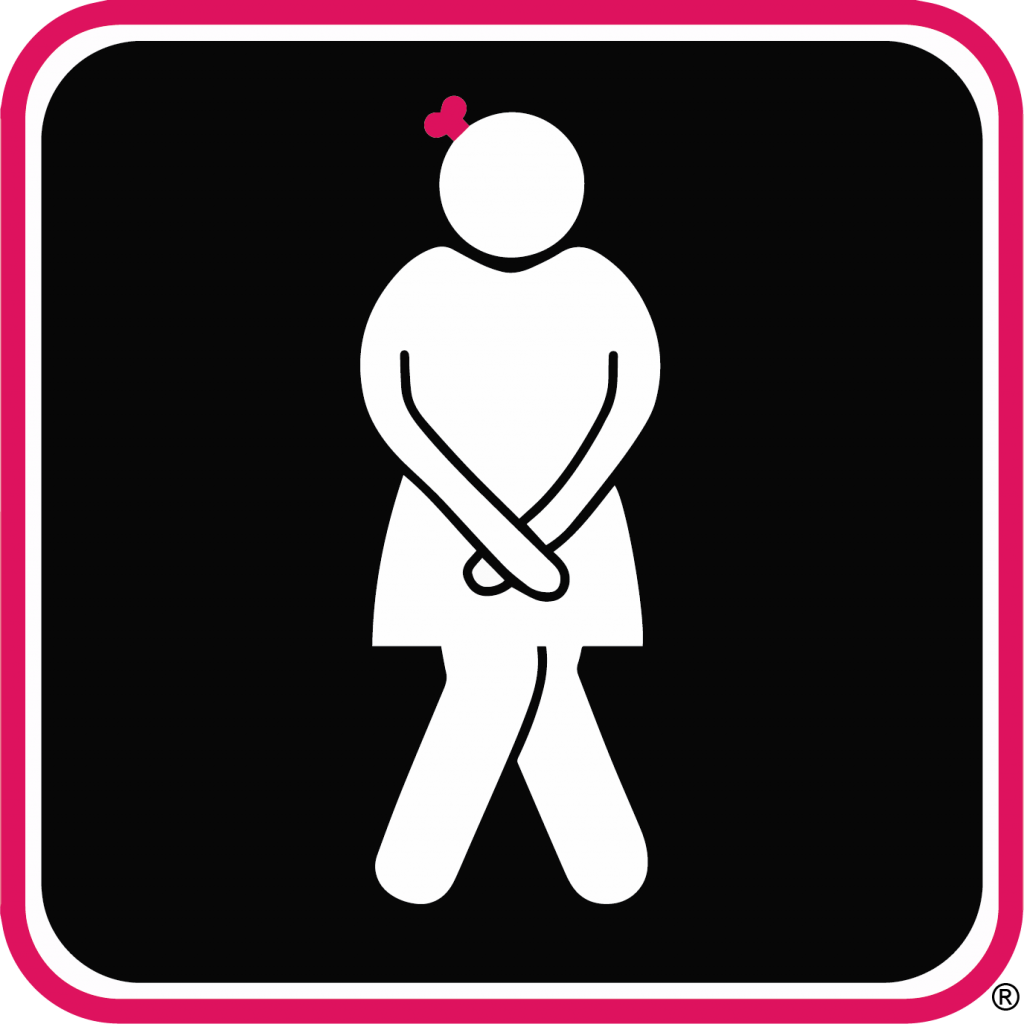 FRIEND, FOE, OR BITCH?
As I worked on DICKOTOMY, I started to wonder about my own behaviors toward men AND women. I realized that I could never fully explain myself unless I could understand the history of women, beginning with Eve. Yikes, what a task!
So… while I rolled up the sleeves on my tank top and started my research, this has turned out to be a much bigger project. I anticipate years of research, outlining, writing, editing before I get to publish this. Be patient.

As an author, fiction is an avenue that will allow me to reach more readers. It's also exciting for me because I get to be more creative with my characters and my story-line. My mind gets to go anywhere. And trust me, it's gone to some awesome places already:
THE LAST TIME
(This is my first fiction book, and it's a psychological thriller.)
Claudia finds herself in a cabin, imprisoned and without any memory of who she is or her past. She must maneuver through very unfamiliar territory in her effort to escape her prison in the woods, a captor who tells her he's there to protect her, and the night terrors that frequently invade her dreams. In the meantime, her friends are frantically trying to discover what happened to Claudia while dealing with their own guilt. Can Claudia get back before she is lost forever?
REBORN
(This is going to be a series of books!!!!)
How many times can you be reborn? It's something Tasha begins to ponder as she re-awakens in a different world every time she dies. A mysterious 'being' accompanies her through these strange parallel dimensions, but offers little assistance as to the 'why' and 'how'. Tasha has the nagging feeling that the time allowed to figure out her purpose seems to decrease with each sudden death. Can she figure out the end game? Or is she stuck in a never-ending loop?